BOEING B-47B
STRATOJET BOMBER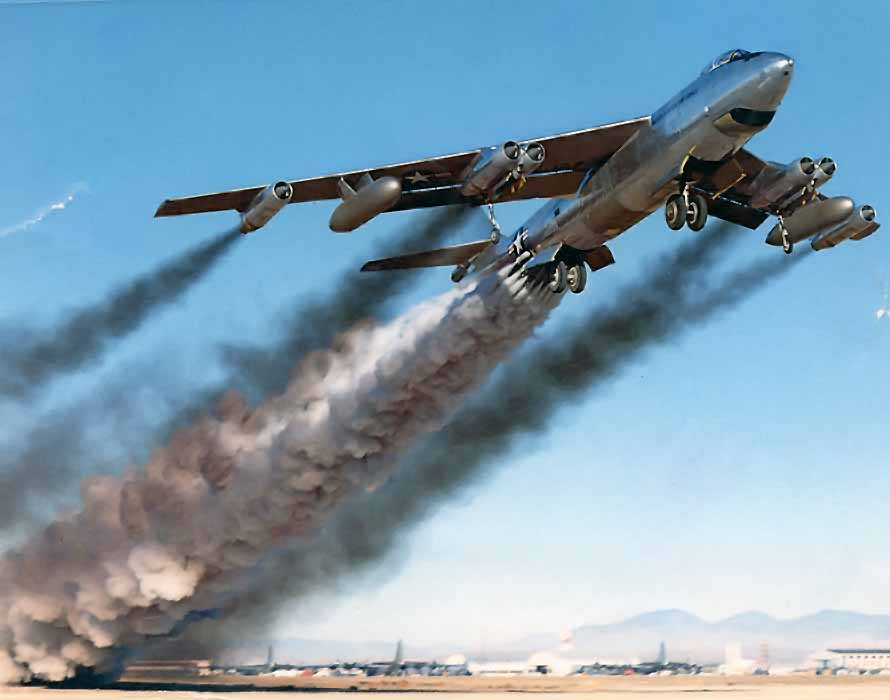 The Boeing B-47, the world's first swept-wing bomber, made its initial flight on Dec. 17, 1947 and quantity deliveries began in 1951. When production ended in 1957, more than 1,200 Stratojets were serving with the Strategic Air Command at USAF bases throughout the world.
The B-47 normally carried a crew of three: pilot, copilot (who operated the tail turret by remote control), and an observer who also served as navigator, bombardier, and radar operator. In the RB-47 reconnaissance version, the navigator also operated the camera equipment.
The B-47E was the first USAF aircraft to incorporate a "fly-by-wire" primary flight control system in which the pilot's command controls are transmitted to the control surfaces by electrical wires rather than by cables and mechanical linkages.The wings have as much as 17 feet of flex at the wing tips.
First flown in 1947, the B-47 was the first of the big swept-wing bombers. A 35-degree sweep and six engines made the B-47 a very fast and formidable bomber.By the late 1960s, the B-47 was obsolete and was removed from operational service.
Our plane suffered two major accidents: first, an engine exploded and ripped 18 feet from the right wing; second, a hard landing permanently grounded the plane.
SPECIFICATIONS

Span:

116 feet

Length:

107 feet 1 inch

Height:

28 feet

Weight:

226,000 lbs. max

Armament:

Two M-24 20mm cannons in tail turret;




plus nuclear bombs or; 10,000 lbs. of conventional bombs

Engines:

Six (6) General Electric J47-GE-23 turbojets with 7,200 lbs. thrust each

Crew:

Two (2)

Cost:

$ 1,888,000

Tail Number:

51-2315

Years in Service:

1952-1971

Total B-47's Produced:

2,042

Total B-47 Remaining:

29

Used By:

United States Air Force (2,040)




United States Navy (2 – EB-47E)

PERFORMANCE

Maximum Speed:

630 mph

Cruising Speed:

560 mph

Range:

3,500 miles

Service Ceiling:

39,300 feet
---